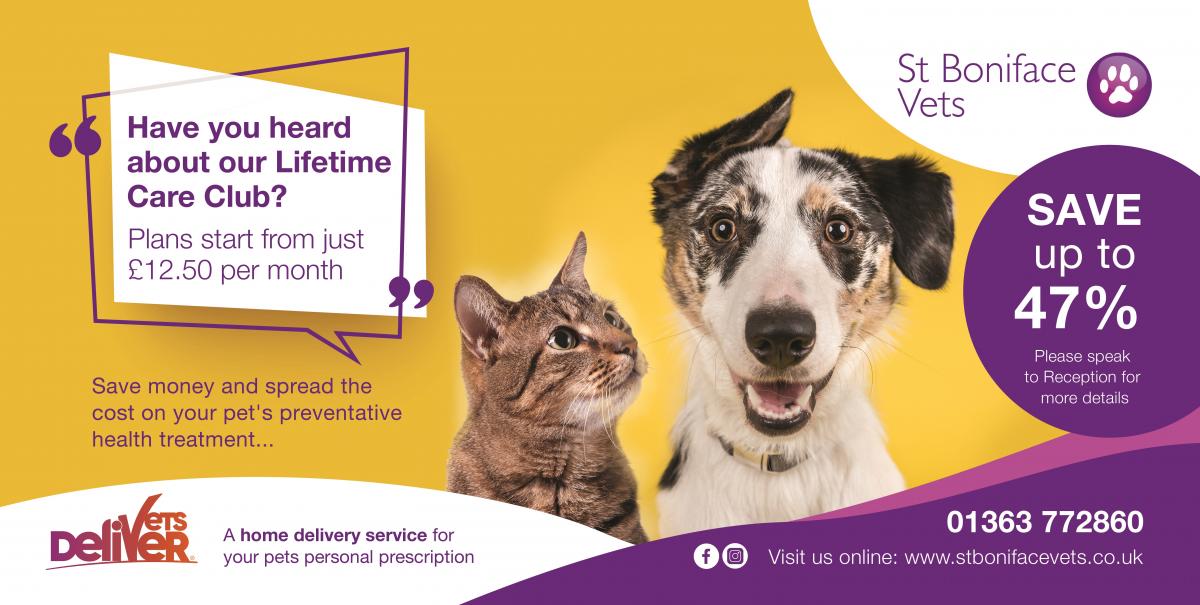 'Our Lifetime Care Club plans offer significant savings and allows for the cost of preventative care treatments to be spread over convenient monthly payments.'
The Lifetime Care Club offers a simple, affordable way for you to protect your pets against preventable diseases, by making sure your pet's vaccinations, parasite control and general health are all up-to-date.
Pet Health Plans are not pet insurance: They include the regular things - like vaccinations, flea, worm and parasite treatments, health checks and advice in an easy, interest free low cost monthly payment plan - the things that pet insurance doesn't cover.
Plans start from only £12.50 a month with cover for adult dogs and adult cats (prices are based on weight) and cover for kittens and puppies. The puppy and kitten plans also include discounts on your pets neutering.
Whatever stage in life your pet is at, the Lifetime Care Club is designed to adapt to your pets needs from puppy or kitten, right through to adulthood.
VetsDeliver
From January 2021 our Lifetime Care Club has changed to include home delivery of parasite control. 
We understand how busy life can be and how easy it is to delay collecting essential
flea and worming treatment. We are delighted to introduce an exciting new home delivery service called VetsDeliver that will bring convenience, save you time and provide ongoing health protection for your pets.
We will be starting to include home delivery of your parasite control from 1st January 2021, we will be rolling the scheme out across for all our members when parasite control is due.
As well as making life easier, having your three-monthly prescription arrive directly through your letterbox will ensure that your pets never miss a dose, maximising the treatments effectiveness and ensuring ongoing good health.
Your treatments will arrive in a recyclable box, designed to fit through your letterbox.
How VetsDeliver works
We will prescribe your pets first flea, tick and worm treatments during their health assessment.
We will dispense the first treatments in practice and take your first monthly Lifetime Care Club & VetsDeliver payment on the day.
Together we will set up a Direct Debit and VetsDeliver will post and deliver the relevant parasite treatments until the next health assessment is due.
How VetsDeliver benefits your pet
Parasites are a continuous threat to the health of our pets. In a recent study, 1 in 3 dogs were found to have ticks and 1 in 4 cats were found to have fleas. Successful preventative health care not only removes the nuisance of these parasites but is essential to help reduce the risk of transmission of disease. 
Therefore, continuous, timely treatment is vital to protect your pet, your family and your home. With VetsDeliver you will never need to remember to collect a dose again! VetsDeliver will have your pet's parasite treatments delivered directly to your door. We will even send you a reminder to let you know when it is due to be given!
For more information and to sign up for our fabulous new service, please contact us or see below;
Click here to view our leaflet showing all that is included in the plans
To sign up to one of our plans today Click here
.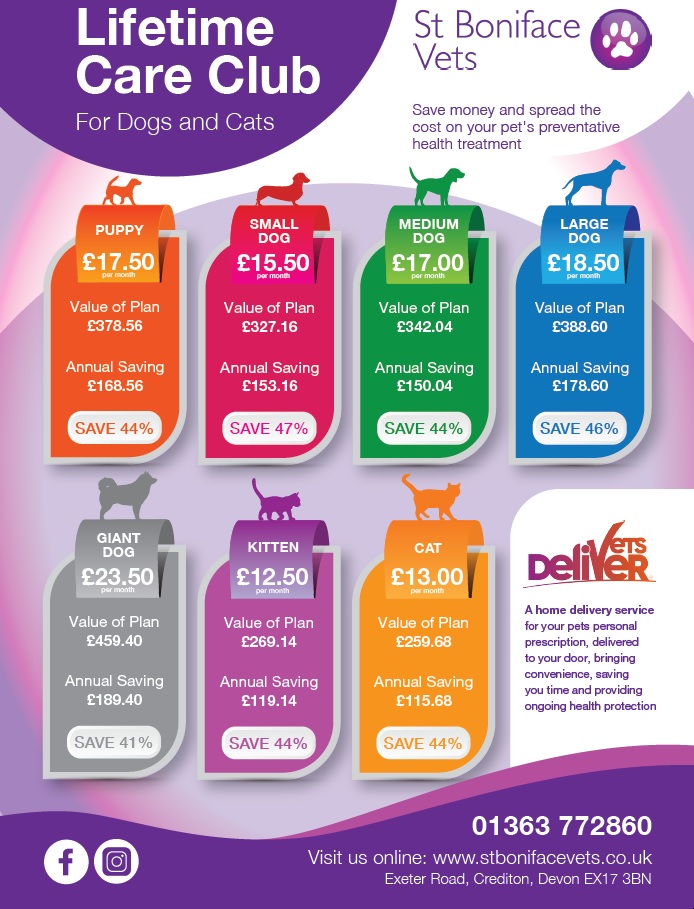 For more information, please give us a call on 01363 772860 or email us at info@stbonifacevets.co.uk; we are more than happy to outline the benefits for your pet and provide more information on the different levels of health plans that they offer.