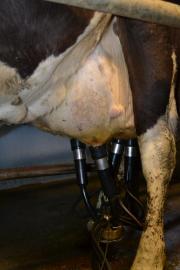 On average, a single case of clinical mastitis costs around £137. This includes both the direct (35%) and indirect costs (65%) and considers the UK incidence of mild, severe and fatal cases.
Here at St. Boniface Vets, we offer a service aimed not only at treatment of mastitis, but also control and prevention. With the right advice and planning, many of the causes of and predispositions to mastitis can be resolved; leading to greatly reduced costs and increased production. On farm investigations and plans involve the following:
Monthly reports, monitoring levels of infection, aimed at early detection of problems.
 
DairyCo Mastitis plans which aim to identify the source of the mastitis problems on farm and provide structured practical steps to address these issues.
 
In house incubator for mastitis samples allows reporting of culture results after 48hours. This aids targeting of treatment, and identifying the source of infection.
 
Dynamic milking machine testing to assess vacuum pressures and pulsation rates and ratios throughout the different phases of milking. The aim is to assess quality of milking equipment. 
To read a 2016 report, entitled - Mastitis reduces Fertility, please click the link.