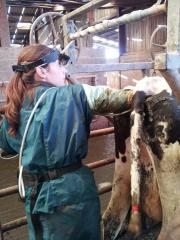 Good reproductive performance is the key to profitable farming. Freshly calved cows in the first third of lactation are highly efficient at converting feed. It is therefore desirable that a cow spends most of her reproductive life in this efficient period of her lactation. This can only be achieved by getting her in calf again promptly.
Routine Health Visits
Most of our dairy clients have routine fertility visits. Irrespective of your farming system, be it high or low yielding, seasonal or all-year-round calving, we work with our clients to help them meet their short and long-term goals. We use portable ultrasound scanners and would typically examine the following in a routine herd health visit:
Post natal checks: Freshly calved cows (>3 weeks) to detect uterine infection
Non-bullers: Cows that have calved >45 days that have not been observed in oestrus
Pregnancy diagnosis of cows 30 days after insemination
Cows with irregular oestrus intervals
Repeat breeders
Sick cows
Data Analysis
We are firm believers in using key performance indicators to target problem areas and keep a close eye on performance using monthly reports. We offer extensive yearly performance reviews, focusing on fertility, health and production.
Disease Monitoring
We offer quarterly bulk milk screening for infectious diseases and targeted blood sampling for disease control and metabolic profiling. Risk assessments are carried out and control strategies are tailor made to farms.