Introducing our own range of premium quality products to support with complaints including joints, liver, anxiety and hygiene
We know how hard it can be to make sure you are buying good quality supplements and healthcare products for your pets!
With the plethora of tubs, bottles & tubes for sale in pet stores, supermarkets and pharmacies, how can you be sure you are buying a good quality product that really will do what it claims?
Here are St Boniface Vets we are helping to remove the uncertainty, by supplying you with our own range of supplements and healthcare products.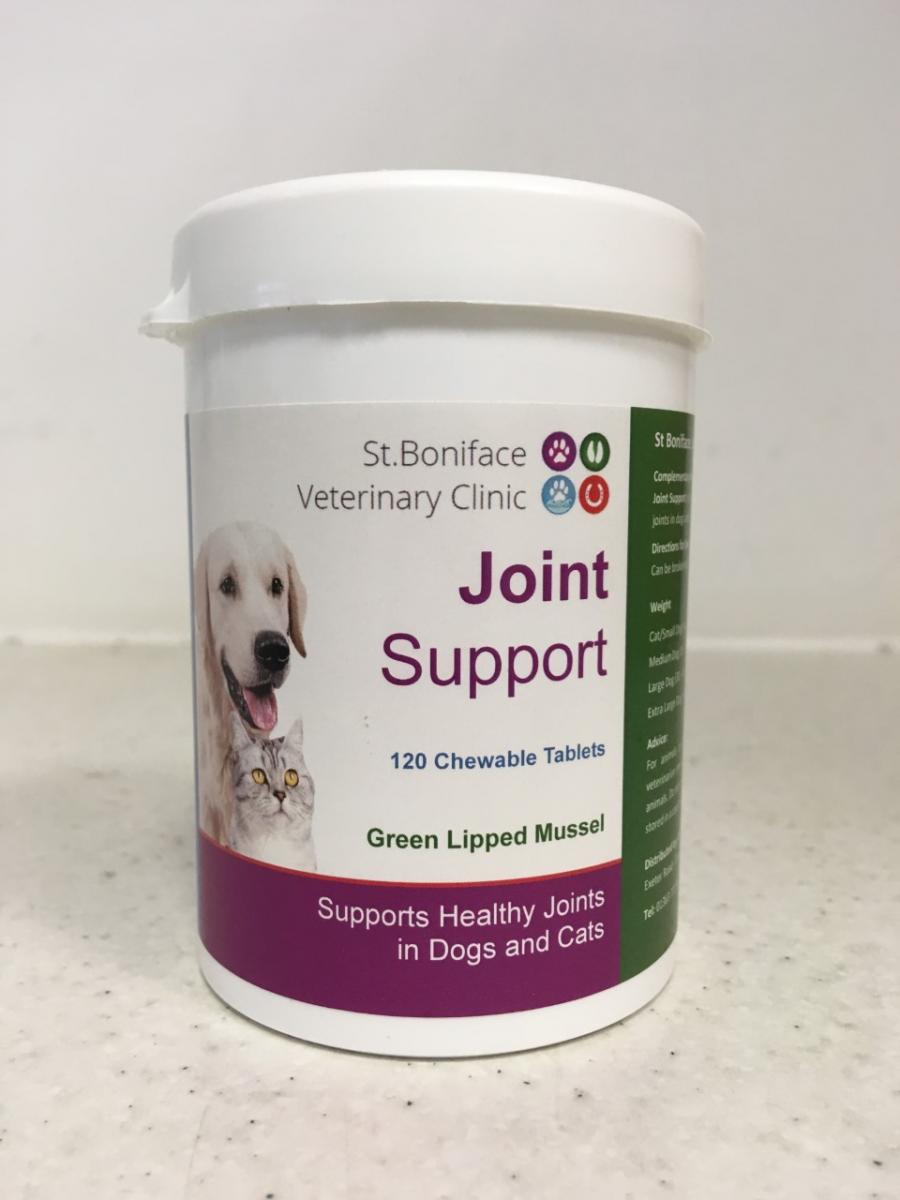 Joint Support GLM (Green Lipped Mussel) (120 chewable tablets)
Complementary feed supplement to support healthy joints in dogs and cats
Green Lipped Mussel contains high levels of omega-3 fatty acids and eicosatetraenoic acid.  Both of these ingredients make GLM a very effective, safe, natural anti-inflammatory for management of arthritis (to be used alone or alongside other prescription medicines available)
Key Ingredients: Green lipped Mussel, Glucosamine, Hyaluronic acid, Vitamin C and E, Manganese and Antioxidants
The easy to administer capsules are simply broken and mixed in with food or given as a treat
Joint Support is available without a prescription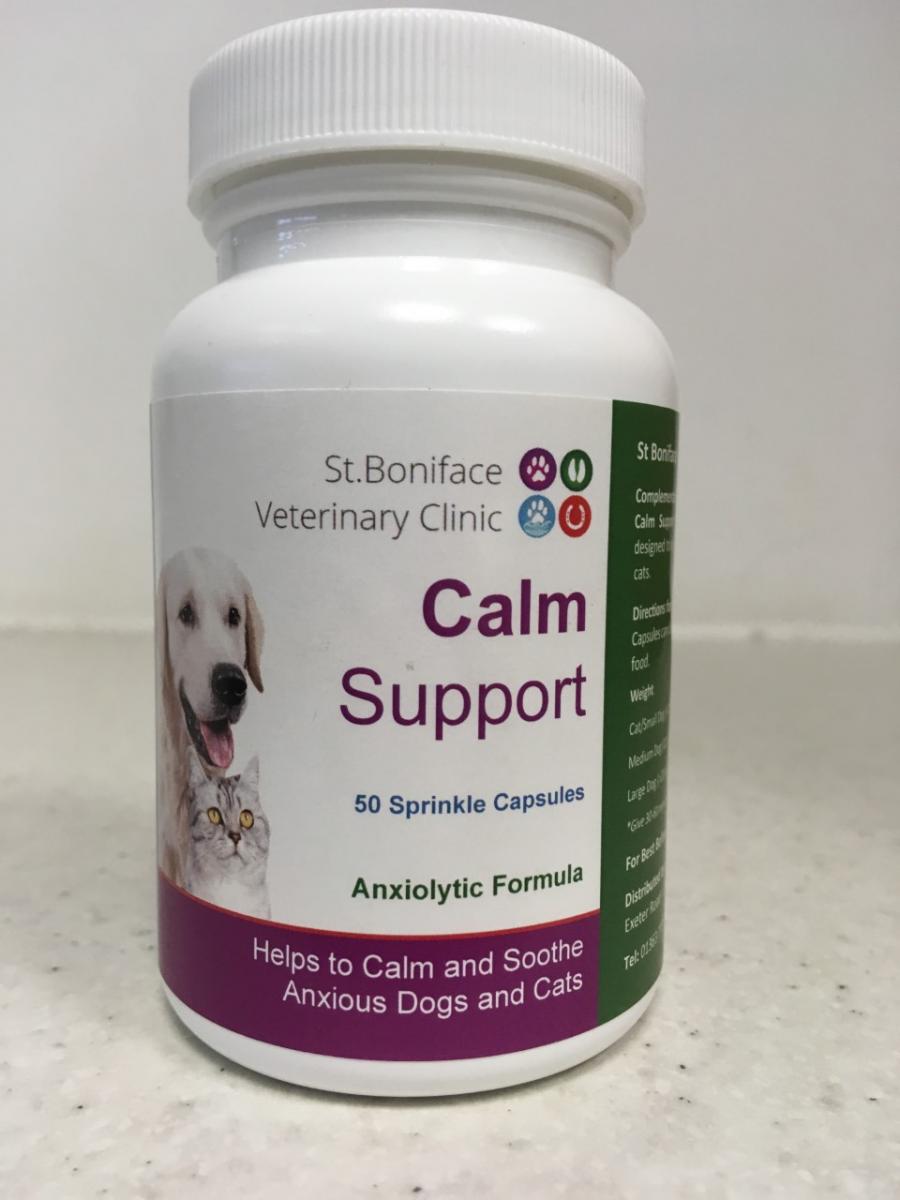 Calm Support (50 capsules)
Complementary feed supplement designed to aid in the management of anxious dogs and cats
Key ingredients: pharmaceutical grade L-tryptophan, which enhances the amount of serotonin in the brain, Ashwaganda extract, Chamellia sinesis extract and Valerian root extract which are effective and natural relaxants
Ideal for stressful situations like: travelling, kennel stays, vet visits and grooming
The easy to administer capsules are simply opened and sprinkled in with food or given whole
Calm Support is available without a prescription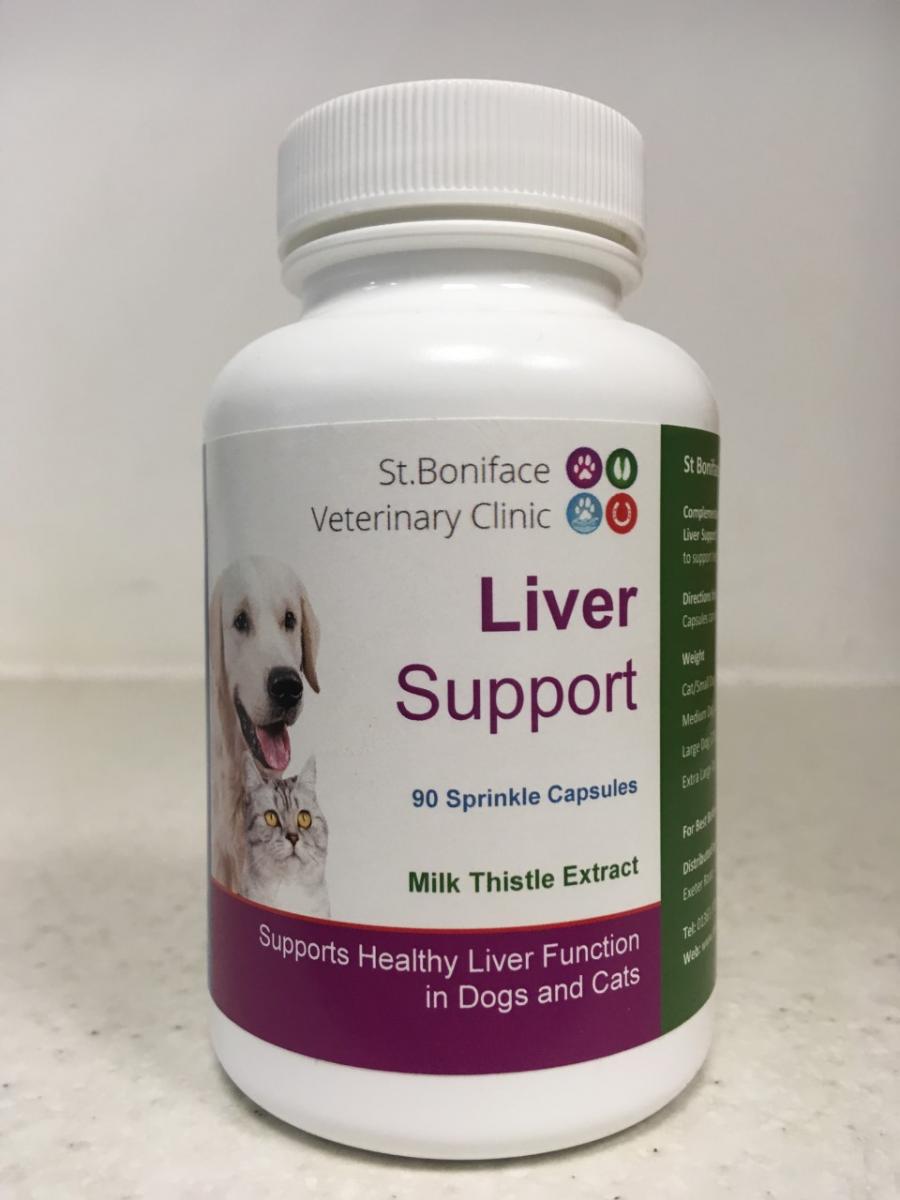 Liver Support (90 capsules)
Complementary feed supplement designed to support healthy liver function and other internal organs.
Key ingredients: Milk Thistle Extract, B-Vitamin complex, antioxidants and lecithin
Ideal for dogs and cats suffering from acute and chronic inflammation of the liver and biliary ducts, as well as other soft tissue internal organ inflammation i.e. pancreatitis
The easy to administer capsules are simply opened and sprinkled in with food or given whole
Liver Support is available without a prescription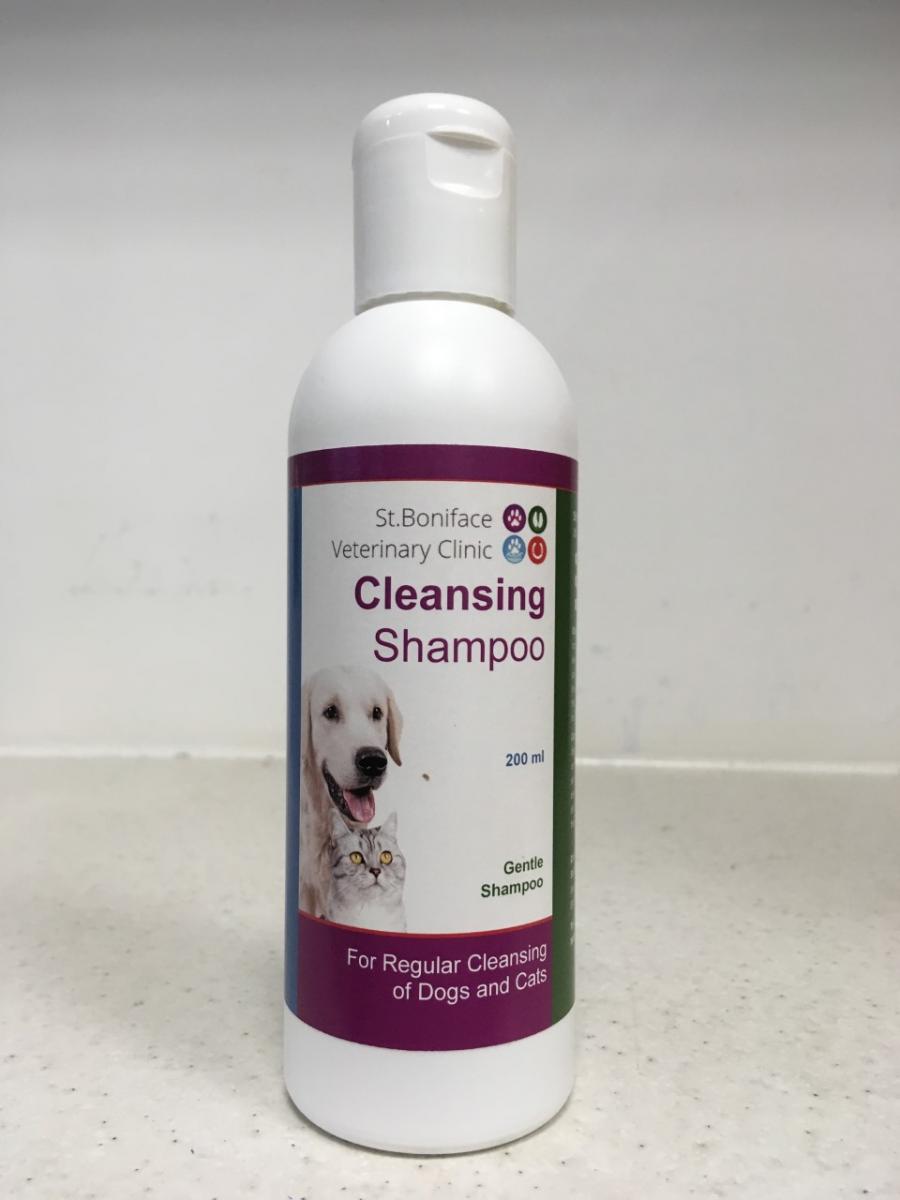 Cleansing Shampoo 200ml
Contains cleansing components that wash away dirt and leave the hair shiny and soft
Delivers a soothing action and helps reduce excess scales and itching
Suitable for frequent washes

Directions for Use:
Apply the desired quantity of shampoo directly onto the animal's skin and coat. Massage the shampoo until a rich foam forms.
Leave for five minutes before thoroughly rinsing and drying the animals coat.

Cleansing Shampoo is available without a prescription
Cleansing Mousse 200ml
Dry Shampoo for dogs, cats, ferrets and rodents!!!
This gentle, dermatological mousse is ideal for frequent washes and puppies / kittens
Cleanse and deodorise without wetting
Removes excess dandruff and scurf
Cleansing Mousse is available without a prescription
Cysto Support (100 Capsules)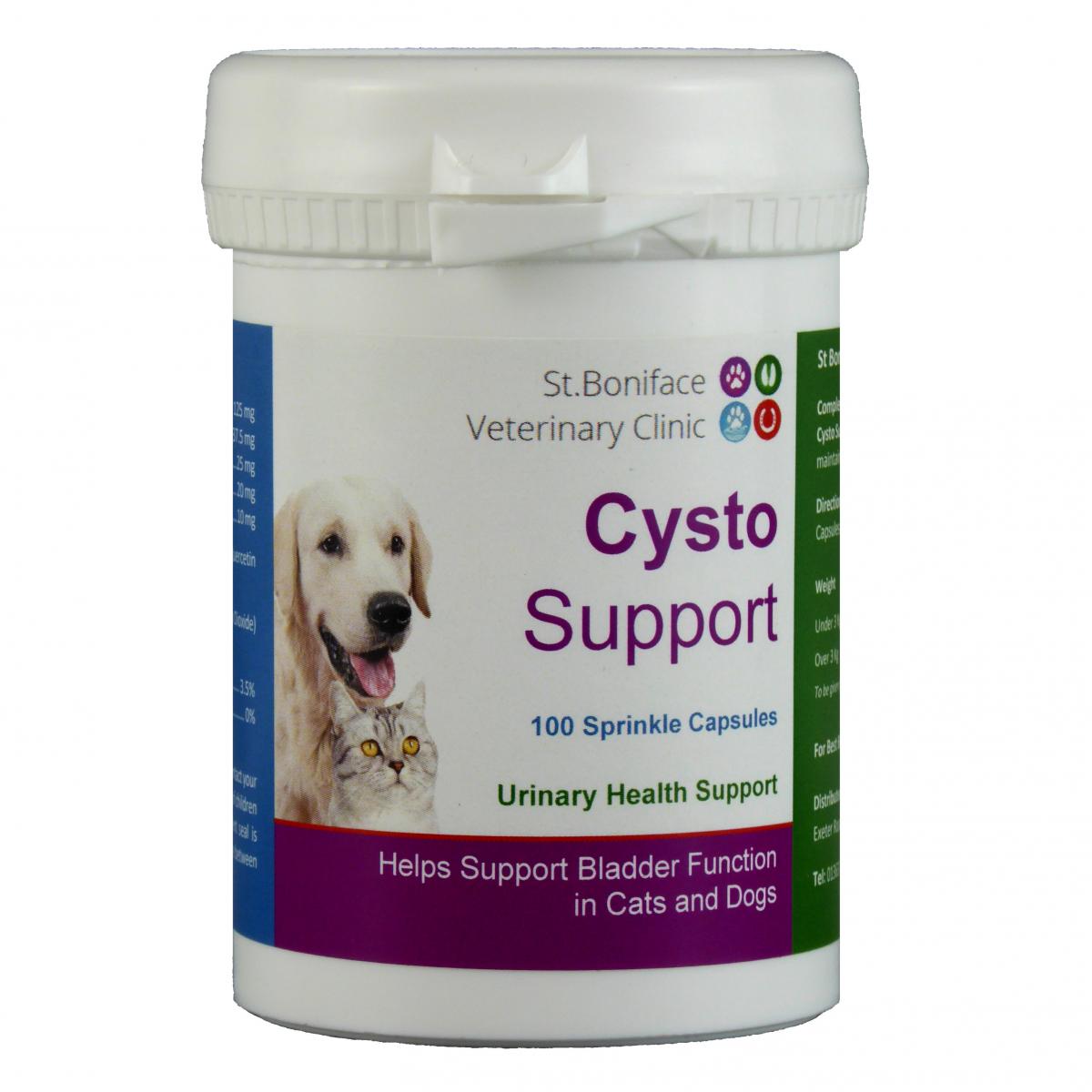 The product helps to maintain the lining of the bladder and help to reduce any inflammation, and can be used in cases of Feline Idiopathic Cystitis (FIC)
Can be used for cats and dogs
Contains high levels of active ingredients in comparison to other available cystitis products
Simply break capsule open and mix contents with food
Due to the higher dosing requirement for dogs, please do not use in combination with any calming/anxiety supplementation
Cysto Support is available without a prescription
If you are interested in purchasing any of our product range or if you would like more information, please pop into the practice or contact us on 01363 772860 / info@stbonifacevets.co.uk