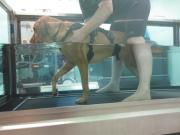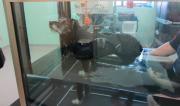 Jane has been offering hydrotherapy with assistance from the nursing team since 2012. 
Qualifications include: 
Level 3 Ceritficate in Small Animal Hydrotheray with K9HS in Suffolk 
Advanced Hydrotherapy Treadmill with Hawksmoor.
In Greek, the word "hydrotherapy" means "water healing." Dogs ( & some cats ) can benefit from water therapy in the same way humans do. The properties of water that make it particularly useful include
buoyancy ( provides support with less weight through painful or weak joints )
resistance ( can assist with cardiovascular fitness and muscle strengthening )
hydrostatic pressure ( helps to reduce swelling )
temperature ( warm water reduces stiffness )
However, there are also some precautions and contraindications so for safety we will always assess an animal's suitability before booking a hydrotherapy appointment. 
Treadmill v Pool? There are pros and cons to both the use of the treadmill and the pool and in the end it comes down to the expertise of the therapist and sometimes the temperament of the animal which we will happily discuss with you. Even those dogs who are not normally keen on getting their feet wet usually adjust to and enjoy the treadmill. 
We find hydrotherapy particularly useful for both conservative and post op treatment of orthopeadic & neurological conditions. Many of our senior and arthritic animals derive great benefit from hydrotherapy as part of their management programme, while it can also be useful for fitness, weight management and gait re education. 
After assessment, each hydrotherapy session will be tailored to the individual's injury or condition and fitness level.  Each animal will be directly supervised within the treadmill.  Showering techniques followed by manual therpies with the animal standing supported by the warm water are important components in preparing the animal for movement. The treadmill will only be put into motion when the animal is judged to be ready.  The treatment given at each session is recorded, thus enabling us to monitor progress. 
If you think your dog would benefit from hydrotherapy then please contact the practice.