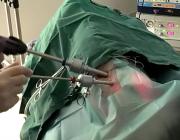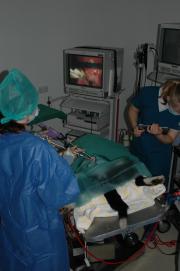 At St Boniface Vets we are proud to offer two methods of spaying your bitch. The routine, "traditional" open surgery and the less invasive, laparoscopic (keyhole) surgery.  In 2011, St Boniface Veterinary Clinic became one of a very small number of practices in the South West who offer keyhole neutering.
What is the difference between "traditional open surgery" and keyhole neutering (laparoscopic ovariectomy)?
Bitch spays are one of the most common operations performed in dogs at the clinic.  The "traditional" open surgery involves major abdominal surgery through a 2 – 10cm midline incision to remove both the ovaries and uterus.  Removing the ovaries requires the stretching and tearing of the ovarian ligament.
In keyhole neutering the ovaries are removed by careful dissection through 2 small incisions using a camera for visualisation and special instruments to control any bleeding.  This results in less pain during and following surgery and quicker recovery time.
Benefits to keyhole neutering:
Smaller wounds – less time to heal
Less pain generated by surgery
Less scarring
Less risk of infection
Gives the vet excellent visualisation of other organs and any potential abnormalities
Shorter recovery times and less need to restrict dogs for as long post-surgery (Ideal for boisterous, active bitches or working and agility dogs.)
Any breed of dog can be a candidate for keyhole neutering but unfortunately a number of dogs are not suitable e.g. overweight dogs, very small dogs, and dogs with a history of womb infections.
The average dogs we see for keyhole neutering are young, slim and very lively, therefore the owners would struggle to restrain them for the "traditional" open neuter recovery period of 10-14 days.  Generally, if a bitch has undergone laparoscopic neutering there is usually no need for a "lampshade" collar, minimal exercise restriction, owners often report "back to normal" the next day and they can go back to their usual routines after 5 days. 
If you are interested in keyhole neutering for your bitch, and would like to know if she is suitable for the procedure, please call the practice on 01363 772860 and speak to one of our nurses.